Hey y'all,
So the original plan was to have my Feb Favorites video go up on Monday, but my dog decided to chew up part of my computer charger Sunday night! It started sparking and smoking when I plugged it in, so my plans were put on hold. Today I finally got my new charger in the mail so.. I'm back!! And I'm planning on having my video up on Friday.
So I have about 10 days until I'll be on a plane to Costa Rica for spring break! I am BEYOND excited and ready to get a week away from school. The tricky thing is that the fiance and I will be traveling stand-by.
Because of the not-so-reliable travel method we're taking in and out of the country, we decided to only take one carry-on bag each! We don't want to risk checking a bag and having it end up somewhere we're not. But fitting everything for a week long trip in one small bag can be a little tricky! Here are a few tips that I'm counting on for packing:
1. Put all beauty products in small, travel sized containers. This can save a ton of room so you don't have to pack your full sized makeup and beauty products, and save time during the safety checks.Try a kit like this from amazon!
2. Pack the minimal amount of shoes possible, and only take one pair of bulky shoes. Boots and heels can take up a ton of room in a suitcase, so I'm planning on sticking to mostly sandals and one pair of heels and probably no boots. Thankfully, it's getting warm out – so the bulkier winter shoes don't have to go! Check out these versatile sandals that can be dressed up or down!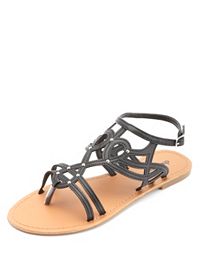 3. Pack that extra bag you can fit under your seat as much as possible! Go with a large tote that you can fit jackets, heavier items, hats, and ESPECIALLY your purse in! Putting your purse in it saves a ton of room by fitting 2 bags in one. Try out this large travel tote!
What are your favorite tips for carry-ons?